Intent To Use
A weekly newsletter provided by Garbis Law, LLC
Chicago Bears Lose to College Team – Go Bears Trademark
With the NFL season in full swing, the Chicago Bears ended up losing a bit more than just their Week 1 match up against the Atlanta Falcons.
Before the first game of the season, the Chicago Bears ran a campaign on Twitter which would have added Chicago's logo to every tweet with the hashtag #GoBears on it.
This season's Twitter emoji is…#GoBears#GoBears#GoBears#GoBears#GoBears pic.twitter.com/MGMSG4zPmt

— Chicago Bears (@ChicagoBears) September 6, 2017

The only problem with that is the Chicago Bears don't actually own the trademark rights to "Go Bears." The University of California has a trademark on the phrase "Go Bears" and quickly called out the NFL team on Twitter when Chicago's logo was popping up after a hashtag frequently used by Cal.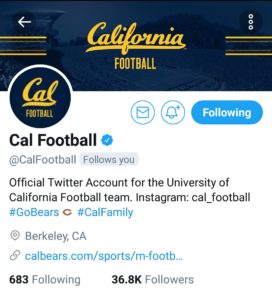 Appreciate the support guys, but that's the

 wrong logo 🤔 https://t.co/quF1xTq1xP

— Cal Athletics (@CalAthletics) September 6, 2017

It's also important to note that this isn't the first time Chicago had problems with a Twitter hashtag. Last season, in an attempt to use #BearDown, Chicago was once again shut down because the the University of Arizona has a trademark on that phrase. When asked by a Twitter user why the official hashtag for the season wasn't #BearDown, the Chicago Bears official Twitter account simply responded: "Messy legal stuff…phooey."
In this year's Twitter showdown, the Chicago Bears went down quietly and chose to use the classic #DaBears (which they have trademark rights to) for this season. Trademarks matter people!
Da one.
Da only.#DaBears pic.twitter.com/CqcOLvzyE1

— Chicago Bears (@ChicagoBears) September 12, 2017
Trademark Services
---
Trademark applications are done for a flat fee, which includes a trademark search, opinion as to the likelihood of registration, and filing the application with the trademark office.
Have you come up with a great name or slogan, but haven't opened up shop yet?  That's OK.  You can still reserve your trademark with an "intent-to-use" application.  Find out more HERE.
Trademark Renewal
If you already have a registered trademark, you will need to renew it every once in a while so it does not expire.  If you stop using your trademark to identify the goods/services it protects, it no longer operates as a trademark.
Trademark Assignment
Selling your business or need to transfer your trademark to a different entity?  This is called an "assignment," which is recorded with the USPTO.
Trademark Infringement
Let's face it, no matter what you do, there may be others who copy you.  Unfortunately, you may also find yourself on the wrong end of a cease and desist letter.  I can help you identify whatever rights you may have and provide an opinion on how you should proceed.  Depending on your situation, sending a cease and desist to an infringer, or responding to an infringer can all be handled.  Additionally, I can help you negotiate a settlement agreement with the other party.
Ready to Protect Your Brand?
Click below to get started!
Latest From The BrewCenter
Anastasios G. Garbis
Registered Patent Attorney
---
I am a registered patent attorney and spend my time consulting entrepreneurs on how to protect their businesses through the use of different forms of intellectual property.  My experiences through my time as an attorney and involvement in various business ventures in the restaurant and hospitality industry have helped me relate to the needs of small businesses and entrepreneurs.